Services offered by 468-TIME

Currently, 468-TIME only provides Time of Day.

However, Future plans are in the works to add Temperature and Weather to
this service, so stay tuned!



Access Numbers:
(919) 468-8463

Q: What do I need to access 468-TIME?
A: You can access 468-TIME from any telephone.
Q: What is the number to 468-TIME?
A: 468-TIME is the number. Just be sure to dial the area code 919.
the last four digits that spell the word TIME are 8463
(919-468-8463)
Q: How much does 468-TIME cost?
A: It's free for you, however I do still have to pay the costs of providing
this service, so donations are greatly appreciated.
Q: I don't live in Cary, but I still want to use your service, is this okay?
A: Yes. You don't have to be a Cary resident to access 468-TIME,
however, you should check with your operator to determine if this will
be a local call for you. I will not reimburse any long-distance charges.
Q: How long has 468-TIME been around?
A: 468-TIME was started on December 6, 2013.
Q: I sometimes get a busy signal, is this normal?
A: Due to the cost of phonelines, I can't currently afford to add
additional lines to handle heavy call-volume. Enough donations
may change this and allow for additional lines and equipment.
Q: 468-TIME is not working, how can I report an outage?
A: you can report it by emailing 468time@furmannet.net or
via the 468-TIME Facebook page.
Q: Who are you?
A: 468-TIME is Cary, North Carolina's telephone time number.
I Matthew Furman am the operator of the line and I have been a
Cary resident since late-2007. You may read more about me
on my personal website www.furmannet.net
Q: Why did you create 468-TIME?
A: Because I am a telephone hobbyist and Cary did not have a
telephone time number, so I made one.
Q: Who is the voice on your telephone time line?
A: It's me! Matthew Furman, the operator of the line.
Q: Do you really sit there all day and say the time on every call?
A: Umm. No. It's a recording.
Q: Sometimes I call 468-TIME, but the time info is missing,
why does this happen?
A: It means I have temporarily lost my Internet connection.
My time equipment uses an Internet server to get it's info.
Try calling again in a few minutes and it should be working.
If this issue lasts for more than 10 minutes, contact me using the
email or Facebook link above. I do have a Dial-up account
I use when my broadband is not working. Thanks AOL!
You can check the equipment online status here.
This webpage was last updated on:
Sunday, November 16, 2014 at 04:25 PM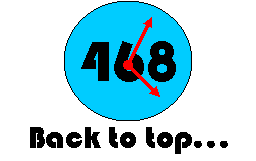 Please help support 468-TIME with a donation. Phone lines are not cheap!
I will keep this service running for as long as I can possibly afford to do so.
Donations no matter how small are VERY HELPFUL!!!

Website Powered by www.furmannet.net